Wooden Rotary Milking Parlour
Brushwood Toys - 1:32 Scale (Brushwood BT2500)
The rotating parlour floor allows for a continuous cow entry and exit system.
Over 50 real metal swing gates and rails position the animals in an outward facing milking position.
Realistic parlour detail includes clusters and pipes, large bulk milk tank and plenty of dung.
Compatible with Brushwood Covered Collecting Yard (
Brushwood BT8600
).
Figures, animals and vehicles not included.
Assembly required.
Model brand / code: Brushwood BT2500
Model construction: Wood
Model scale: 1:32
Approximate dimensions: 71 x 42 x 21 cm
Age rating: 3+

Play Rating: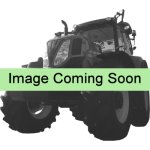 « Toy - Collectable »
Wooden Rotary Milking Parlour
PRICE
£108.99

GBP
1 in stock
Approximately €130.79 EUR or $147.14 USD