Bale Wrapper With Ockery And Black Round Bale
Bruder - just like the real thing - 1:16 scale (Bruder 02122)
During the wrapping process the loaded round bale is rotated around its vertical axis and via roller drive around its axial axis at the same time with the aid of the rotating construction.
The bale is then dumped onto the mobile depository rocker by the dumping mechanism. One ochre-brown and one black round bale are included.
The drawbar position can be adjusted according to the application and tread tyres round off the image.
To add to the fun of playing, the bale wrapper can be combined with the CLAAS Rollant 250 round baler (
Bruder 02121
) and with all tractors of the Pro Series (sold separately).
Model brand / code: Bruder 02122
Model construction: Plastic
Model scale: 1:16
Approximate dimensions: 18 x 16 x 18 cm
Age rating: 3+

Play Rating: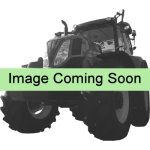 « Toy - Collectable »
Bale Wrapper With Ockery And Black Round Bale
PRICE
£20.49

GBP
5 in stock
Approximately €24.59 EUR or $27.66 USD