CLAAS Axion 850 Tractor
Wiking Die Cast Models - 1:32 scale (Wiking 7305)
CLAAS has always set standards and redefined rules in all these areas. The best example of this is the New Axion, a tractor with impressive performance characteristics and features.
Steerable front wheels, opening bonnet, opening doors also opening rear window on tractor. Moveable wing mirrors, front weight and front and rear hitch. Authentic tyre tread design.
Note the tractor rear hitch is not fully compatible with other brand 1:32 scale implements as the bar retaining pin supplied is a larger diameter than most trailer hitches. To use with other implements a smaller pin will have to be sourced.
Model brand / code: Wiking 7305
Model construction: Die cast metal and plastic
Model scale: 1:32
Approximate dimensions: 18 x 9 x 11 cm
Age rating: 14+

Play Rating: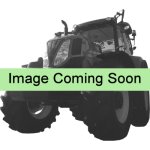 « Toy - Collectable »