Field Marshall Series 3 Vintage Tractor - 1949
Universal Hobbies Country Collection - 1:43 scale (Universal Hobbies 6063)
To start the Marshall a smouldering piece of special paper, containing saltpeter, is inserted into the engine. The engine is then turned over with a cranking handle. Depending on the condition and mood of individual tractors, it is possible to get a thorough workout starting the Marshall.
Later versions of the Field-Marshall had more sophisticated starting systems available - electric starters were optional on the Series 3As.
Supplied on a plastic plynth in its own display case.
Model brand / code: Universal Hobbies 6063
Model construction: Die cast metal and plastic
Model scale: 1:43
Approximate dimensions: 7 x 4 x 4 cm
Age rating: 14+

Play Rating: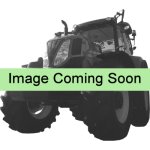 « Toy - Collectable »